"Keeping Rock & Roll Alive One Hit at a Time"
Fifties and Sixties Rock and Roll, that is. That has been my life's work since 1999. Through being a musician, and since 2009, a radio broadcaster too. I'm not keeping it alive single-handedly, of course. I'm just doing what I can do with my group of musicians and my radio program to keep the music alive on radio and on stage in whatever capacity I can.
Why? I love this music. I discovered it like millions of others have. Records, radio and TV. I was born in 1972. The resurgence of '50s rock in the '70's with American Graffiti, Sha-na-na, Happy Days and my folks record collection hit me right between the eyes when I was a kid and I've been going back in time ever since.
Freddy Vette & The Flames
We started in 2002. We're still going! Theatres, Festivals, Fairs, Dance Halls, most everywhere here in Ontario. These videos really say everything about the band. Rock & Roll really lives and breathes when it's being performed live in front of an audience. With me on stage are:
Sara Miron – Vocals
Dawn Diamond – Vocals
Gary Buffett – Drums
Kevin Crotty – Guitar
Wayne Mills – Sax
Ken Globe – Stand-up Bass
---
"Keeping Classic Country Music Alive One Hit at a Time"
When I started playing in a band when I was 14 years old, it was Country music with my parents. They're were called The Haggerty's. I cut my teeth playing those country sounds, learning on the job about guitar playing, harmony singing and how a band works. All these years later, I'm so happy to be able to play that music again with Freddy Vette & His Rhinestone Plowboys.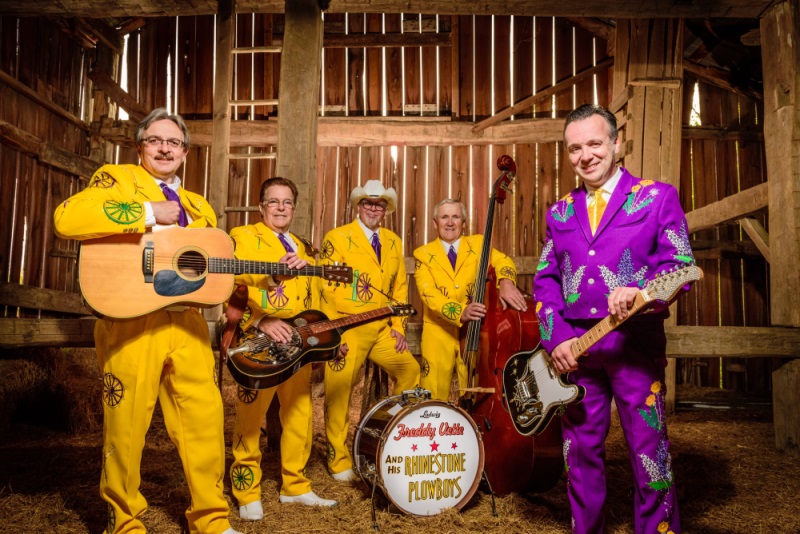 The guy on the stand up bass is my Dad. I talked him into coming out of retirement after hanging up his bass for 25 years. Real Country Music like Buck Owens, Merle Haggard, Hank Williams. The good stuff from the 40s/50s/60s. I'm excited about this new band and I have a great bunch of guys who love it as much as I do.
Al Brisco – Steel Guitar
Al Torrance – Guitar/Mandolin/Banjo
Brad Baldwin – Drums
Jim Haggerty – Bass
The Freddy Vette Radio Show
The Freddy Vette Show On Demand by Freddy Vette on Mixcloud
Above, the most recent edition of my radio program on 800 CJBQ in Belleville. Weekdays, 2pm till 7pm. Rock & Roll from 1955 to 1970. Have a listen. I'll wait.
I've been on the air at CJBQ since September 2009. I do my best to re-create a rock and roll radio show straight out of the '60s with high energy personality, jingles, goofy cornball humour, some theatre of the mind, and of course, the music. The music ranges from the hits, seldom played hits, to obscure rarities with lots of listener participation. I take the same approach to the program as I do when performing with The Flames. Study the originals. I listen to radio announcers from the past and you'll hear the influence of Cousin Brucie, Wolfman Jack, Jack Armstrong, Jungle Jay Nelson and other radio greats during my program.
The '50's Diner Experience
That's the best way I can describe what I do. You've probably been to a '50s diner. If it's a good one, it's an immersive experience. From the checkerboard floor, to the dining booths, stools at the lunch counter, lots of chrome, a jukebox, that glass container that holds the straws for your milk shake and the cook better be wearing one of those little paper hat thingies. All of this is the set up for the food. The details make the food taste better.
Whether it's my band or my radio show, I aim to make it that kind of experience for you. All the little details that set up the "food" which is the music. When it's over I hope you feel like you've experienced something authentic and that you'll want to rediscover and share this music.
Freddy Vette